Off to England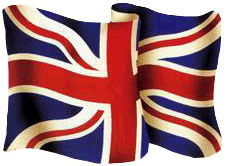 I'm writing these words from England (near Sutton, London) as I'm here to attend the London School of Theology NT conference (I must admit, I stupidly forgot all about the BNTC and its too late now) at which I shall be presenting two papers, one on the evening of the 6th and the other of the morning of the 7th. This means that I was up at 4 O'frigging clock this morning *aaaaarrrghhhh*, and that I'm also sleepily getting myself into a muddle with this English keyboard layout as I type.
I do miss Ol' Blighty. We are off tonight to buy copious amounts of Fish & Chips - you know, the sort of chips that are wedged together in a greasy mass of pulp, covered in salt and vinegar. Utter mouth-watering gloriosity! In truth, thin flimsy 'fries' are like cat-wee next to English-chip wine.
*looks guiltily at size of tummy*
*remembers 'what the hell' mantra. Grabs the car key's*
This means that my blogging will probably slow down a little for the next week but I will be online posting every now and then and certainly keeping up to date with those on my blogroll.
Oh, and if anyone is in the area for the conference, do drop by!