The use of Scripture in Christian Zionism: a critical examination. Pt. 2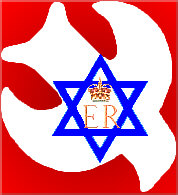 This post is simply to make concrete some of the definitions in the previous and will not attempt any analysis. Indeed, there wouldn't be space in a single blog post to go into detail, especially as examples of CZ abound on the internet ranging, as one would expect, from the reputable to the outrageous.
Starting with the more up-market: The CEO of
Bridges for Peace
, one of the larger organisations with an explicit agenda, claims the following: '
God's promises
to Israel are being literally fulfilled today' (
here
, italics mine)
Representative of smaller organisations is
Exobus
. On their article page you will find Scriptures being used as proof texts such that the claim becomes 'it's the fulfilment of biblical prophecy to help Jewish people back to Israel today'.
You will notice the lead Scripture cited in prelude to their '
7 reasons why
' justification for
Aliyah
:
'"However, the days are coming," declares the LORD, "when men will no longer say, 'As surely as the LORD lives, who brought the Israelites up out of Egypt,' but they will say, 'As surely as the LORD lives, who brought the Israelites up out of the land of the north and out of all the countries where he had banished them.' For I will restore them to the land I gave to their forefathers"' (Jer 16:14-15)
They proceed to argue that 'The Word of God makes it clear not only that '"He who scattered Israel will gather them" Jer.31:10, but that God will use gentiles to help carry them home (Is 49:22 & Is 14:1-2). Dubbed by some as the Second Great Commission, this mandate to 'help the Jews home ' is accepted by increasing numbers of Bible-believing Christians as NOW'.
They go on: 'The scripture is clear in many passages like Ezekiel 36 & 37 that God 's programme is physical restoration of Israel, followed by spiritual restoration of Israel and world-wide revival. It is God's primary intention to bless the Jews in the Land, and from that Land to make Jews a blessing to the whole world, bringing glory to His Holy Name (Ez 36:23)'.
For more claims like this visit the links given
here
.
Oh, OK, let's bung it in too. For one more particularly timely and bloody silly version, click
here
. The reasoning as represented on the hyperlink appears to be something like: Isaiah 24:1-6, ergo the world will erupt into nuclear war on September 12th, 2006!
In the following couple of posts I want to submit to you that this sort of thing evidences a mishandling of Scripture and involves i) a misunderstanding of the nature of Scripture, ii) a naïve hermeneutic that hasn't allowed itself to be shaped enough by the
Christ-event
, thus betraying the model provided by the early Church, and iii) an inconsistent application of scriptural promises.
Labels: Christian Zionism