Guest Book Review: Our Mother Saint Paul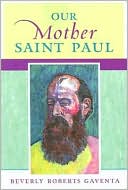 My thanks to WJK for a review copy and to Alisha Paddock for her review.
----------------
Beverly Roberts Gaventa, Our Mother Saint Paul, Louisville: Westminster John Knox Press, 2007. 218 pages, $24.95.

In Our Mother Saint Paul, Beverly Roberts Gaventa embarks on a project long in the making. Gaventa has long been interested in Paul's use of metaphors, especially those referring to the role of mother. She not only combines articles previously written, but also brings them up to date by adding new insight and research. In this book, Gaventa takes on two tasks. First, she investigates four passages in which Paul uses maternal imagery and second, she explores Paul's theology, specifically in Romans, keeping God's apocalyptic act at the forefront of her discussion.

In part one, Gaventa argues, and rightfully so, that the passages in which Paul employs maternal imagery have been neglected or glossed over in recent scholarship. After isolating these passages, Gaventa discovered that Paul uses these metaphors to add new dimensions to the apostolic office. In 1 Thessalonians 2:7, Paul portrays himself as both an infant and as a nurse taking care of her own children. Apostles are not only to be innocent and childlike, but also "the responsible adult" who tends "charges with care and affection" (27).

In Galatians 4:19, Paul writes that he is going through the pain of labor again until Christ is formed. Paul is so desperate not to let Galatians return to their pagan ways, he is willing to go through the painful birthing process again. Gaventa argues that Paul shows how an apostle is to "birth" people into the family of God.

In 1 Corinthians 3:1-3a, Paul is dealing with spiritually immature believers who cannot handle solid food, but milk provided by a "nursing" Paul. This utilization of maternal imagery has a three-fold function. One, it stresses the importance of the concept of family (which is lacking in the Corinthian community). Two, it "places Paul at the margins of what is perceived to be 'genuine' manhood," to show the apostolic role is of servant leadership (50). Three, it emphasizes the bond between Paul and the Corinthian believers which is akin to the bond between a nursing mother and her child.

In the final passage (Romans 8:22), Paul is not the one who takes on the role of mother, but it is all of Creation which is in labor. Here Gaventa contends that one has to read this text apocalyptically. Even though Creation is in labor, what is awaited is not Creation birthing something, but God's actions of adoption and redemption (57).

The second part of Our Mother Saint Paul attempts to place the passages from part 1 into their proper apocalyptic context. The first half is an in-depth look at Paul's autobiographical remarks in Galatians 1 and 2. Gaventa argues strongly that these verses should not be looked upon only as an apology, but as a way to show how the singular gospel Paul preached puts an end to "all prior commitments, conventions and value systems," including Paul's Jewish beliefs (93).

The second half of part two thoroughly examines the letter to the Romans and its apocalyptic context. Gaventa explains that God had an active role in handing over Creation to "cosmic conflict" (113). She also clarifies that the idea of sin in Paul's letter is more than a transgression, but an anti-God Power (capital 'S' Sin) that is defeated by Jesus' resurrection (127). With this defeat of the cosmic powers believers are liberated, but this freedom comes with certain behaviors and boundaries. Believers are actively to support one another, be engaged in prayer and thanksgiving, all serving in the house of the Lord. The boundaries of the believing community are "the shared memory of God's action" against Sin and Death and "God's persistent calling and saving" of both Israel and Gentiles (143).

One of the more important contributions to Pauline discussion OMSP brings is a new framework in which to deal with the issue of women in the Church. Gaventa maintains that Paul's gospel is one that "obliterates worlds" (68). There is no room for gender in Christ. Instead we are a new creation in which identity markers mean nothing. Gaventa does not attempt to answer the questions she poses, but to present them in order to prompt more discussion.

Beverly Roberts Gaventa sheds light on texts and wrestles with issues that have been in the dark too long. But there is one issue I have with the book. Part one and part two do not seem to be connected. After the introduction of part two, there is no mention of maternal imagery; the focus turns wholly to explaining Paul's apocalyptic context. Gaventa needed to work a bit harder keeping the theme of maternal imagery at the forefront of the reader's mind. This might have been achieved had there been a conclusion to the book. A summary would have helped the reader place the metaphors mentioned in part one into their apocalyptic context. Overall, Gaventa sets forth a new and refreshing perspective that will add much to Pauline scholarship, doing a wonderful job going where few men have gone before.

Alisha Paddock

Manhattan Christian College
Manhattan, Kansas
Labels: Book Review, Guest Post