Creationism or evolution - a rant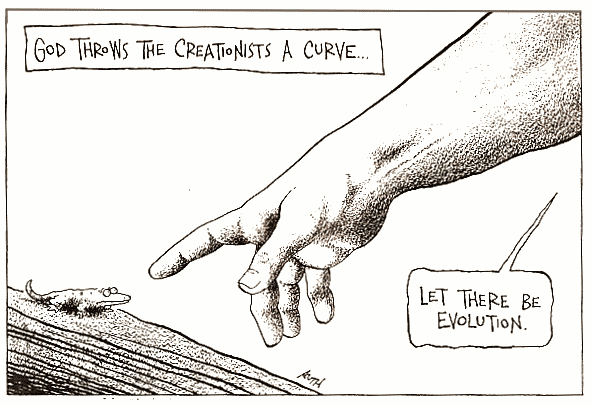 An intermission in my usual posting for the following rant:

I realise that I've been giving some of my conservative Christian friends a rough ride here recently with my 'devil's advocate' position with regard Universalism, and so my apologies that this post does little to change the situation. Please don't misunderstand me in the following; it is among creationist Christians that I spend most of my time, and many are of course wonderful people, personal friends, and not to mention deeply devoted Christians who inspire me with their love. However, and I'll just spit it out, when I watched the first 40 minutes of this 'documentary' (read: 'conservative propaganda') it made me furious.

Yes, it was another 'vs.', this time creation vs. evolution. I suppose the 'vs.' should have alerted me ...

I believe Genesis is the inspired Word of God, let me make that clear, but I reject creationism for a number of reasons:

It is a disputed exegesis of Gen 1 which could well refer to the creation of order out of chaos, not creation ex nihilo.

It fails to account for the various different 'creation accounts' in scripture, not least in the Psalms.

Nobody was there at creation; there is no formula ('thus say the Lord, this is what happened...') to indicate it was prophetic material either. It is a theological exposition of creation, not a scientific one. This hints at a broader issue: Scripture is part of our human situation and so stays within the horizon of the fully human. I firmly believe scripture is inspired by God and more than merely a witness to religious experience, but it is still human. I wouldn't be surprised if the writers and redactors of Gen 1 and 2 really thought that was how the universe was formed (from chaos?), but that doesn't make it scientifically correct (questions that were not, strictly speaking in the modern sense, on their agenda)

The fundamental message of Gen 1, which I gladly affirm, is that in the beginning, was God (cf. Küng, The Beginning of All Things), and it tells us of the relation between this God and his creation (gender inclusive language gives me the willies, sorry). Science can neither prove or disprove this.

Science can, however, raise serious doubt against the biblical account 'of creation' if one insists on understanding it as a scientific explanation. For example, the age of the earth, the flood, the existence of humans together with dinosaurs etc. And no I don't find the human footprint together with dinosaur footprint as found in the USA convincing. If evidence was so important, they why not take the masses of conflicting evidence against creationism seriously?


Evolution, on the other hand, eloquently explains a variety of data from different scientific disciplines. For example:
Biogeography shows that closely related species appear particularly frequently in neighbouring regions because they descend from common ancestors

Palaeontology shows by means of fossils that closely related species are often found in neighbouring strata as they are related to one another by evolutionary descent

Embryology shows similar phases of development in very different animals, because the embryo is the later animal in a less developed stage and this betrays the form of its ancestors

Morphology can classify animals by common anatomical features and differences in species, genres, families, orders, and realms. The new molecular biology confirms this: all living organisms contain two forms of a particular molecule (DNA and RNA) that fix the blueprint for all living beings (bullet points from Küng, The Beginning of All Things, 88)
Indeed, I think the modern science of DNA pretty much confirms evolutionary theory. And by the way, to speak of it as a 'theory' is not to undermine it as science:

'Darwinian theory has generated an enormous amount of research in which the theory of evolution is being tested in animal, plant and microbial populations under carefully controlled laboratory conditions. By choosing living organisms with rapid replication rates it becomes much easier to investigate the effects of environmental changes, crowded ecosystems and reproductive strategies on changes in genotype and phenotype. Although Darwin thought that evolution works "silently and insensibly", and was therefore not amenable to normal methods of scientific investigation, it is now possible to test his theory in ways that he never dreamt, not least in computer modelling in which Darwinian predictions can be tested over thousands of generations' (Rebuilding the Matrix, Denis Alexander, 306).

Besides, '"Bare facts" divorced from theories do not occur in science'. Therefore to talk of passionate commitment to "evolutionary theory" is not a contradiction in terms. Calling a scientific model of explanation a "theory" is not to demean it' (ibid.). By the way, to call evolution a religion is, in my humble opinion, nonsense.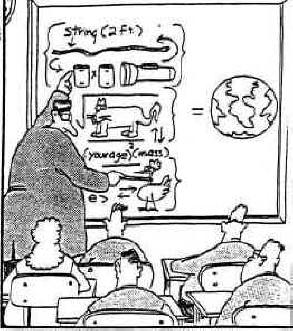 Many of these pro-creationist programmes are, so far as I am concerned, free to carry on preaching their message. I became a Christian after hearing a creationist present evidence for the trustworthiness of the bible, for which I am eternally grateful, as in the process I entered a relationship with Christ. I am now convinced that the creationist position is wrong, but hey, so is much that appears on TV. However, when the above 'documentary' reads from Rom 1 at the start of its programme as if the text was a prophecy concerning evolutionists, I find the border between the acceptable and the outright wrong transgressed. It's like the thousands of homeschoolers in the States teaching their children evolutionary theory is 'stupid' when they've probably never read Darwin, nor attempted to understand the findings of modern DNA science. Here is another documentary for more on the 'stupid' issue ...

I have a theory that evolution is so infamous in the evangelical scene in the States as there is little else of importance to worry about. Could it be a symptom of comfortable life near the heart beat and blood pulse of pax Americana? Arguably partly so.
Equally, to say that evolution is to be accepted and that therefore the bible is wrong is to negate the many options open to understand evolution as a Christian. It makes a value judgment about all levels of the biblical text in light of just one reading option, namely that it must be a scientific description one finds in Gen 1, or it is wrong. But such a view is a hermeneutical sledgehammer in the flowerbed; a graceless skinhead at a poetry recital. There is much that could be said against the trumped up arrogance of some evolutionists but that is a rant for another occasion.
Yes, I believe evolutionary theory is correct. Yes, I believe in God the creator of heaven and earth. Yes, I believe Darwin, despite errors, was basically correct. Yes, I believe that Gen 1 and 2 is the inspired Word of God. Yes, I believe humans evolved from lower life forms. Yes, I believe we are made in the image of God. Not it is not about creation or evolution, but creationism and evolution.
But I don't care too much if you don't agree with me. Many of my family and close friends are unconvinced by my words and don't take my position on this matter. However, when a documentary starts claiming that evolutionists are the fulfilment of turning from God to creatures, that gets my blood boiling!