Was Jesus Wrong?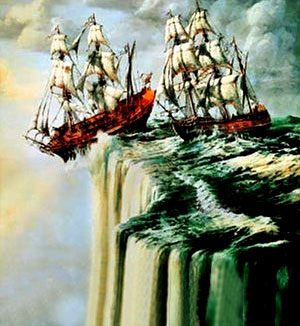 The discussion on my previous post about evolution has been a lot of fun. One commentator called Michael argues:
"My biggest issue with Christians who jump into bed with evolution is Jesus. How does your enlightened evolutionary stance understand a Jesus who clearly took the creation narratives (and other OT 'myths') at face value and taught them as truth, even as authority, to his followers. (Mk 10:16 Mt 19:4). Maybe he was contextualising and using the myths he didn't really believe to make a more important point??? Nope. It's all true, or none of it is true."
James McGrath chimes in, opining:
"As for Michael's comment, I'll just point out that if you believe the Bible, you have to believe that Jesus could be mistaken. If you are going to pretend that Matthew 16:28 or Mark 13:30 are not there, you can easily pretend the passages about the last Adam aren't either. Personally, I decided quite some time ago to stop trying to get the Bible to conform to my demands and let it be what it is."
A line of reasoning often used is this: 'Evolution is bad because Jesus believed the creation stories literally, therefore you evolutionists say Jesus is wrong'.
I think some operate under a christological error in these discussions, one that borders on the heresy of Doceticism. Jesus' worldview was in so many ways that of other 1st century Palestinian Jews. Had you asked him if the earth was flat, he would have almost certainly said 'yes' (cf. here on James' blog). Had you asked him if there was a literal Adam or Eve and serpent, I think he would have been puzzled by the 'literal' tag, but I suspect that if you had pressed him he would have said that he believes in a literal Adam and Eve (though I cannot prove these statements. I am making historical judgments, and I see no reason why he would not have believe these things – modern science did not develop for centuries. Though as noted, the whole metaphorical / scientific categorisation would have probably puzzled him). This is why, had you time travelled and asked 1st century Jesus to tell us about Michael or Chris or James, he would not have turned around and said 'Oh yes, Michael/Chris/James will be born in almost 2,000 years from now', and then proceeded to tell the details of your life to Peter and the disciples. He wouldn't have had a clue about you or me as he was fully human. You may know the song about Jesus hanging on the cross, and that when he was there he 'thought of me, above all'. But I really don't think he did think of me on the cross. He wouldn't have had a clue who you or I am. He was fully a first century man. This is why Jesus didn't tell the world about a cure for cancer, or instruct people on basic sanctity in relation to bacteria and such like, or detail the way to make penicillin, projects that would have saved thousands upon thousands of lives, many more than hundreds of his miracles put together.
God was in Christ reconciling the world to himself. I affirm the orthodox teaching of the incarnation, that Christ is fully God and fully man. Right now, Christ is exalted to God's right hand, and in his intra-trinitarian relationship with his Father and the Spirit, I believe he does now know me. And you. But as he grew as a man, Luke 2:52 tells us: 'Jesus increased in wisdom and in years, and in divine and human favour'. I can affirm what Luke says here, and at the same time affirm Hebrews 13:8, that Jesus is the same yesterday today and forever.
So was Jesus wrong about a flat earth, or about a literal Adam, Eve and serpent in the garden? Well, had we lived in the first century as Palestinian Jews, we would have all believed the same. So it is not really fair to judge Jesus on these matters in light of later pictures taken of the (spherical) earth from the moon, and so on. If one day someone proves that the world is not spherical but multi-layed across multi-dimensions, would I be wrong now to believe the world is spherical? Well, according to present day knowledge I would not be wrong, but at one level of factuality I would be wrong. But it would be unfair to judge me according to the later knowledge too strictly. So I would have to say, at one level of discourse, at the strictly factual, Jesus would have been wrong about a flat earth and about the serpent in the garden (though as I said, I cannot prove he believed these things literally, but I think he would have said he did – why shouldn't he – if we were to have pressed him with our modern categories that would have been largely alien to him). But Jesus was sinless, and whether he - as he very probably did - believed the earth was flat (cf. Matt. 4:8-9) does not change this. As my friend Josh McManaway pointed out, Origen and some of the other Fathers would say Jesus is 'ignorant' on certain matters, but they really mean that he was nescient (not knowing things you need not know.), which is to be distinguished from 'ignorance' as often understood (not knowing things you need to). He noted in IM chat: 'In talking about things like Matt. 24:36, certain Fathers (Basil, Irenaeus, Origen, and Gregory of Nyssa) said that Jesus was ignorant (they meant nescient) about the day. This position is to be contrasted with the Scholastics who generally follow Chrysostom in saying that Jesus actually did know, but chose not to disclose it with his followers'.
So to go to the gospels and to say 'Jesus didn't believe in evolution, he assumed the creation stories', is a questionable manner to reject the theory of evolution for a number of reasons.
Labels: Personal heresy log book