The Lords per minute competition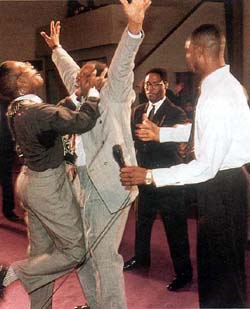 OK, so I won the
Father Christmas competition
rather convincingly, if you don't count one reader's son who sounds like a mini-'patron god of the Philistines' in the making.
For the New Year I have another little competition for you.
Many of us theological types often get involved in various prayer meetings over some part of the New Year celebrations, so this game is to calculate who prays at the highest 'lords per minute' (l.p.m) level in any of the prayer meetings we attend. The idea is that you count the number of 'Lords' said in a typical 15-second clip, and then multiply by four to get a rough idea.
The rules are simple.
It can be anyone you pray with or even hear, but they must be in the same meeting as yourself.
You can attempt to record a high 'Lord per minute' yourself if you want, but experience tells charismatics tend to clock higher speeds than any theologian, even if they be on steroids or fizzy sticks.
An interpretation of tongues, yours or another's that involves the claim: 'Wow, that was clocking record speeds in the tongues of angels', doesn't count.
The tips are equally simple.
Very important is that you try to get along to a really charismatic meeting. I mean really. In other words, if you want a chance of winning, then you need to get along to a foaming mouthed, chandelier swinging, microphone blowing, anointed-jacket swatting, Holy Spirit waving, everybody-laying-hands-on-everybody, 'I had a picture' meeting, or you're lost. I'm telling you, some of these precious brothers and sisters can clock extraordinary high 'lords per minute': 'Lord, we pray, Lord, that, Lord, you'll save, Lord, the lost, Lord' etc. Mix that with earnest fervency and you have a potent, unbeatable cocktail (legend has it that in some cases over 60 l.p.m has been clocked).
Depending on your denomination and role, try steering the prayer meeting with mention of devils, popes, territorial spirits, homosexuals, the lost, whatever gets the most likely high clockers worked up, then grab a calculator.
Being a little charismatically inclined myself, I intend to win this one too (but either way, I will announce the winner in the New Year)